You can probably guess by the title of this blog that the results for the 2015 Poker Hall of Fame inductions have been announced.
As many of you may have guessed, the 'winners' are John Juanda and Jennifer Harman. Both are, without doubt, great poker players. I would like to be half as good as either of them. They both have great tournament results and conduct themselves admirably. I have met and played with both of them and I like them both.
Now fast forward 50 years, maybe 100 years. Imagine there is a big wall at the WSOP with all the PHOFers photos on it. Your children, or grand children are looking at it for the first time having just got the poker bug. How many faces can they name? If Dave 'Devilfish' Ulliott had been inducted instead of John or Jennifer would they be able to name one more? Probably.
A Hall of Fame for me is obviously different to some others. A member should be memorable and illustrious. I wrote my observations and arguments regarding this in my 30th September blog.
I heard it may have been the case that Dave's vote was split somewhat with the legendary Terry Rogers and as another onlooker said to me 'Americans vote for Americans'. Well that may be true.
There are zero living non American's in the PHOF and the only non American name I can see in the list of (now) 50 is Edmond Hoyle inducted in 1980 (he died in 1769). Sounds like they have a fair system here with no bias whatsoever right? Yeah right.
So when is a Hall of Fame not a Hall of Fame? When it's a club.
I think that the PHOF as it is resembles more of a private 'club' than a real Hall of Fame. So today I am starting the 'Joe Beevers Poker Hall of Fame'. I'm not sure what the guidelines are and how future members or inductees will be chosen but I am certainly sure who the first member is. Here is a picture of him: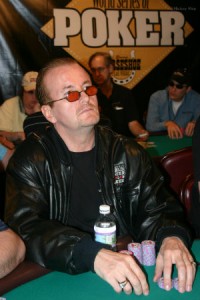 I am open to suggestions for how we add people but out of respect, Dave 'Devilfish' Ulliott will be the only member for the next twelve months.
Any comments, suggestions or whines about the set up over in the USA can be posted in the forum.
Cheers,
Joe