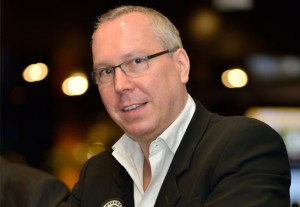 Joe is a professional poker player sponsored by Grosvenor Poker and was a pioneer in both televised poker and corporate poker sponsorship.
Joe grew up in Hendon, North London. Through his late teens he played in a blackjack team which was so successful it resulted in him and his father being barred from 21 of the 23 London casinos at the time.
In his early twenties he went back to University, where he got a BA honours degree in finance. It was during this time at University that he started playing regular poker tournaments in casinos. Joe soon realised that he had a lot to learn but by watching the regular winners and asking them lots of questions he learnt his trade and was soon making final tables himself.
He played in his first WSOP event in 1996, a $2,500 PLH event in which he cashed in 14th place and he had his first major success winning an event in the MasterClassics of Poker in Amsterdam in 1997.
During this time he became friends with Barny and Ross Boatman and Ram Vaswani, who collectively would all become The Hendon Mob. He travelled around Europe with them to major poker festivals.
In 1999 Joe was invited to play in the first ever televised poker event, Late Night Poker. The show became a huge cult hit with the first final table airing late on a Friday night on Channel 4 getting 2 million viewers. Joe made three LNP final tables, including the first one ever, out of the first six series, and went on to feature in more LNP episodes than any other player.
In 2000 Joe could see that the success of TV poker, and many articles about it in the press, could be an opening for poker sponsorship, similar to snooker players wearing logos when they played on TV. He wrote to forty different companies trying to get sponsorship to play the Poker Million on the Isle of Man. He was unsuccessful, except that Red Bull sent him a crate of energy drinks. The ironic thing was that about a dozen of those 40 companies would later have their own online poker rooms, they just didn't know it yet.
Joe, and the Hendon Mob, managed a few small sponsorship arrangements over the next few years until in 2003 they finally broke corporate poker sponsorship properly for the first ever time when they signed a $1,000,000 sponsorship deal with PrimaPoker (who later became Microgaming). This was a first for poker and led to a succession of deals for various other poker pros.
Joe is one of the UK's most successful poker tournament pros. His major successes include winning the Irish Open, The Poker Million (live on Sky TV) and he was Great British Champion when he won the GBPT in 2007 which was filmed for Channel 4 television as well. He has over $2.5 million in tournament winnings.
Joe played for Team Great Britain three times, winning the Poker Nations Cup in 2006 and 2008.
Joe married his wife Claire at the Bellagio in Las Vegas shortly after the 2006 WSOP. He now lives in Hertfordshire with his twin daughters. As well as poker he runs a successful sports betting website (www.bettingemporium.com) with his friend Neil Channing.
As a Grosvenor Poker Pro Joe also leads Poker Boot Camps at events such as the Goliath held at the Coventry Ricoh in 2015.
To contact Joe email [email protected]
Follow Joe on Twitter @joebeevers.com
Facebook www.facebook.com/joe.beevers.5