Devilfish and the WSOP Poker Hall of Fame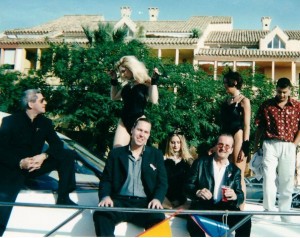 What is a Hall of Fame to you? It should certainly include persons judged as outstanding in their sport or profession, it should also be someone considered memorable.
Whilst there are some great names, great players, in the current list of 48 Poker Hall of Fame members some are less outstanding than others and some are not so memorable. It is the same thing in this year's ten final nominees. Whilst most are outstanding in one way or another some are more memorable than others Dave 'Devilfish' Ulliott is the most memorable of them all!
Cynics on this side of the pond often think that the Poker Hall of Fame is an American thing. There are zero non-Americans in the current 48 membership list. We need to look at and ask if there is a bias here. I'm a statistical kind of person and the standard deviation here seems a little out.
Dave 'Devilfish' Ulliott is by far THE best known poker player that the UK has ever produced. He was a character – poker needs it's characters. Those in hoodies, heads down, wearing sunglasses and headphones, never knowing when the action is on them and never speaking are not what poker needs – it needs characters; without the Phil Helmuths, the Doyle Brunsons and the Tony Gs poker would not be as good, it just wouldn't be the same.
Dave was so much more than a poker character. He had huge success on the felt and played in the biggest games around the world. He was also one of TV poker's pioneers winning the first ever Late Night Poker filmed back in 1999 (pre WPT, pre the internet boom, and before the hole card cam was even used in the USA). Late Night Poker was part of the beginning of the growth to where poker is today.
Daniel Negreanu recently wrote a blog: 'WSOP Hall of Fame 2015 Breakdown'.
In this Daniel lists the 'requirements' of the 'criteria for being nominated'. The funny thing is looking through the list of 48 I can see (IMO) a few names that don't meet these requirements.
Daniel then goes on to say:
'Notice is (sic) doesn't say anything about being a nice guy, being a poker ambassador, or being well liked? '
and …
'We recently lost quite a character in Dave "Devilfish" Ulliott to a battle with cancer. He was great to have at a poker table and helped make televised poker more interesting. He also had a great career, standing the test of time and continuing the grind until his death. Having said all that, his passing should have absolutely nothing to do with whether or not he earns your vote.'
I'm not sure if I am being a little sensitive here and I'm not quite sure if Daniel is saying that Dave being popular is not a reason for him to be considered? He certainly says his untimely death should have no bearing.
Daniel also says:
"I would ask the panel this question: which of these ten players would you find the most difficult to play against – ? Who do you think would be the toughest to beat? "
Where is that in the criteria? This isn't a 'who is the best player list' – it's a Hall of Fame. I think they are very different. Notwithstanding that, Devilfish was a formidable poker player (yes I know he could steam a bit) with amazing continued success over many years. He is one of the greats.
The thing is that Dave 'Devilfish' Ulliott fits all of the 'criteria'. He also happens to be one of pokers most illustrious and memorable characters and the first real star of hole cam televised poker. He sadly isn't going to add to his achievements, and that shouldn't be a reason either for him not to be considered but it does sadly highlight his life at this time.
If Dave gets passed over for the Hall of Fame this year I feel that would likely happen again in the future so if he is ever going to be included then now is the year to do that. I believe not doing it would be a mistake for the WSOP Hall of Fame and for poker itself.
If the WSOP Poker Hall of Fame wants to be taken seriously then it needs to have Dave 'Devilfish' Ulliott inducted.
Please post any comments in the forum.
Cheers,
Joe