I have been meaning to do a Goliath update for a while and seeing as I'm not in the GUKPT Luton final today I've got a spare couple of hours to do it now.
What a great week the Goliath was, kind of. It was a success in so many ways. There were a record 5,232 entries creating a £523,000 prize pool and a £62,750 first prize – not bad for £100 entry!
I say 'kind of' because although I had a great week with some great people it was frustrating for me. You need to successfully navigate sixteen levels to make day two at the Goliath. I played four day 1s and bust levels 13, 16, 13 and 16 again. I had six bullets altogether as I took two rebuys as well and I probably played more levels in the Goliath than the eventual winner Vamshi Vandanapu.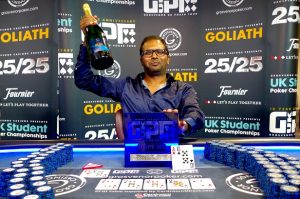 Grosvenorpoker online ran a great fun 'Joker Bounty' event (details in previous blog) and aside from a few technical issues with sign ups it was also an amazing success. There was limited space and all tables in the massive conference room were used with 15 allocated for this. Alternate queues were long and the event was oversold but they managed to get 256 entries and 27 rebuys in the end.
The added joker brought a few discussions on tactics. Would you prefer the Joker and a deuce or two aces? It's a tough one to work out. If you can work out the math let me know at [email protected]. If you want a side bet and to run a few hundred hands hot and cold with a live deck I'll happily take the joker and the two.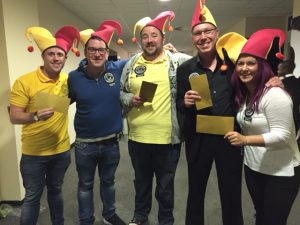 For just a £25 buyin and with five random bounties you would expect players to try and knock me out at any opportunity. There was a particularly interesting hand that eliminated me and I'll share that in a moment. I had a fun table, everyone was drinking and enjoying themselves. Two to my right was WSOP bracelet holder Lawrence Gosney and on my immediate left was Joan Roberts, a lovely lady who usually plays small stakes tournaments at the Grosvenor Coventry. She told me that she once won the £20 PLO tournament at the UK Student Poker Championship. She didn't look much like a student to me though (see photo below). Joan had a handbag like a tardis. Someone asked for a cigarette and she produced five different brands. She asked if anyone was hungry and produced four bags of crisps. Mints? Just the polos, the softmints and the extra strong ones. Sweets? Chocolate? Five choices of each. I jokingly said ' I don't suppose you have any tuna and cucumber sandwiches in there do you?' She produced two.
Anyway I got dealt pocket kings UTG and moved all in. Joan on my left moved all in as well. It passed around to Lawrence on the small blind and he passed. The big blind picked up his hand and paused. He starting thinking, two minutes passed. He had me covered, as did Joan. Lawrence saw his hand and mouthed to me 'he's got the joker'. His other card was a deuce. He finally passed his hand. Joan turned over Ad10d and the flop ran out A45. The big blind would have flopped a straight and won the bounty, instead Joan won it. She got my sealed gold envelope and everyone urged her to open it. She could win a £500 seat and a variety of prizes down to a Bounty Bar (she didn't need one of those, there was one in the handbag). She opened it and put her hand to her mouth in shock. She had never played anything bigger than a £25 event before and now she would be playing a £500 GUKPT event for free! She has a couple of daughters who are dealers in Coventry that some of you may know. She spent the next half an hour excitedly walking around showing her prize to her friends around the room.
Quite a few people asked me during the week if the Goliath could be a twice a year event rather than just the once. The good news is that GrosvenorPoker online now sponsor the IPO in Dublin. It runs later this month from 27th – 31st October and the Facebook page for it is here
There is an expected prize pool of Euro 400,000 and the buy in is just E260+40. It's aimed at a similar audience as the Goliath and I'm off there with the Grosvenor crew later this month. Join us, it's going to be great craic!
There are loads of packages to be won and all this week online all the guarantees have been doubled. There are also some £500 freerolls at 8pm daily up until Wednesday for players.
Open your account here or please click on the Grosvenor banner at the top of this page to open your Grosvenor account and see all the satellites on offer.