Blackpool G Casino, on the sea front, is one of my favourite casinos in the UK. It has a real party atmosphere, people enjoy themselves there. They also have some of the best cash games that I have seen since Holland 1996.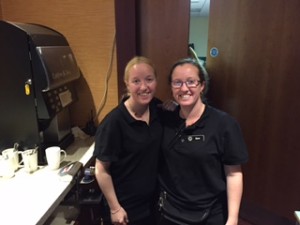 I would like to give a special mention to the waitresses there as well. There are usually only three or four working at a time but it seems like there are a whole army of them. You never have to wait long to order and then the drinks and food arrive quickly. Even though the card room is packed with tables close together and the room may sometimes be hard to navigate they still clear the tables – constantly. I have played in many card rooms where the empties only get moved when there is no space left for a fresh drink to go!
As some of you may already know I have identical twin girls (the odds on a natural twin birth is 1 in 70 and the odds of identical twins is 1 in 1000). Two of Blackpool's waitresses, Sam and Sarah, are identical twins too. We shared a few 'twin' stories. They told me that Sam, when younger, had a milk allergy. When Sam had something with milk in it or drank milk she came out covered in big red spots – and so did Sarah! I said that I thought that was a brilliant story. Sarah reminded me that it wasn't brilliant for her!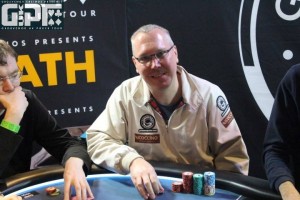 I played the £150 PLO side event on the Thursday night and despite being a short stack for a long time managed to find myself four handed at 4am with Paul Jackson, Mark Evans and Paul Rawlins (who had half the chips in play). I knew it could be a long while yet until we finished so I was happy we managed to agree a deal and I was in bed by 4.30am.
The main event started the next day at 1pm (a much better start time than noon). I was happy with the way I played and went to day two with a decent stack. The first time I was all in and called on day two I found myself with AK up against A10 – you know the rest. I finished a dozen off the money.
They got an amazing 276 entrants, at £1000 each, for the main event. This success is largely due to Tania the card room manager there organising a good set of satellites for the regulars before the festival began. They used to have two main festivals at Blackpool; one in May and then the Northern Lights in November each year. I would like to see the May week return, perhaps with a £500 GUKPT event.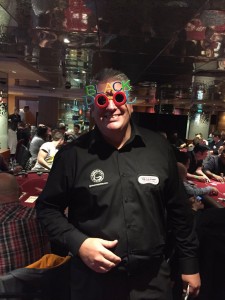 GUKPT Tour dates for 2016 have just been announced and you can see them here – three London legs!
Blackpool's GUKPT Champion 2015 was Jonny Gray. Congratulations to him. You can see the full result here.
Some of you may have seen me wearing Nicoccino patches and wondered what it was. Nicoccino is a leaf-thin film that you dissolve discreetly under your gum. It is 100% natural and contains 1mg of nicotine (no tobacco, tar or smell). You get a 'hit' or nicotine high from it, unlike a gum or patch. It's perfect for when you want a nicotine hit and it's just not convenient to smoke (playing poker, flying on planes, restaurants etc). Full details are on their website http://www.purenicoccino.com If you use my code JOE20 you will get a 20% discount at the checkout.
Phil 'The Tower' Heald is another part of GUKPT furniture that needs a mention. Phil does a great job with the live coverage and the commentary at all the events. His enthusiasm is endless, a great asset to the tour. Can anyone tell me is he called 'The Tower' because he is from Blackpool or because he is the tallest person in the cardroom? I guess if I was from Blackpool I could be Joe 'The Rock' Beevers!
Next stop for me is the £2000 GUKPT Grand Final at the Vic (22nd – 29th November 2015) with a massive £400,000 guarantee. Follow @GUKPT for details of various satellites and qualifiers this week. There is still time to take part in my Get 10% of me in the GUKPT Grand Final! promo.
Cheers,
Joe